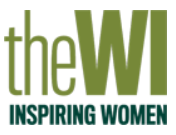 New to the area and welcome the opportunity to meet new people?
Why not try the WI.
We are a small and friendly group welcoming new members and visitors. We have a wide range of speakers and activities. This includes demonstrations, outings, quizzes, fundraising events and informal party and whist evenings.
This all makes for interesting and varied annual programmes – something for everyone to enjoy!
There are opportunities to meet members of local institutes.
Members have the chance to take part in activities and campaigns organized by both Dorset County Federation and the National Federation of WIs – we are the 2013/14 County Quiz Champions!

So if you are 18 or over why not give us a try? You are very welcome to come along as a visitor just to have a look. There are no tests or auditions to go through to join – you don't even need to be able to make jam!!

Sound of interest to you? Then why not give Chris Bartels a call on 01305 262649 who can give you much more information.