TWINNING ASSOCIATION
Bradford Peverell Twinning Association was formed in 1986 when we twinned with St. Sebastien-de-Raids, a village located approx. 40 miles from Cherbourg. St Sebastien is a small Normandy Village just off the Carentan- Periers road.
Generally, there is one visit each way annually. The time of year for the visits changes every couple of years to accommodate farming members and others get a chance to see different seasons. The visits are made over a weekend and crossings, as foot passengers, are by ferry from Poole.
Party sizes vary but are generally 20-30 and include children when term times permit. We meet each other off the ferry and then proceed to the homes of our hosts for the weekend. When reciprocating our members, where possible, act as hosts and a lot of effort goes into ensuring hosts and guests are compatible.
Weekends on both sides are usually very active with a group outing to explore areas of interest and the opportunity to interact with the larger group, especially at the gala dinner where twinners and other villagers regularly meet up.
There is no need to be proficient in French and each year we seem to build on mutual understanding of our conversations. There are, however, some members who are proficient and able to put at ease those who are less comfortable in French.
Each Association covers the costs of formal hospitality and entertaining of our guests and members are responsible only for covering their own costs, such as ferry fares and group trips out. Annual dues are £6 each and £1 for children under the age of 18.
Apart from the twinning visits themselves, the Association also has an active social side with regular opportunities for members to meet up socially. As a result the Association continues to be strong and over the years many firm friendships have been nurtured and in some cases through generations.
The simple message is that we don't all speak French, we do have a genuine interest in France and in friendship with our closest neighbours with whom we have an inter-twined history. Most of all we welcome all villagers and if you are interested in joining us or learning more, please call our Chair Philada Rogers on 01308 485123, or Secretary Jenny Hills on 01305 267641.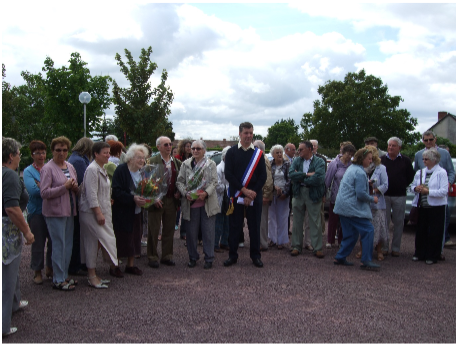 Presentation by the Mayor of St. Sebastien to 2 of the founding members, Elisabeth Lerouxel and Lorna Davison, on the occasion of the Association's 25th anniversary in 2011.