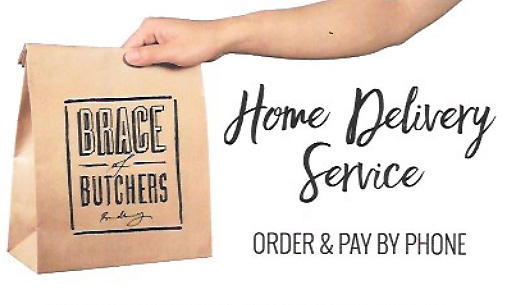 Prompt & Professional Delivery To Your Door in Paper Bags/Crates
How do I place an order?
Call 01305 260956. We will then take the order and address and give you an order number to reference. We will then make the order, run it through the scales and phone you back with order number to confirm order and take payment.
At this point we will confirm the best delivery slot within a 2 hour window.
How are the deliveries made?
Deliveries are made using our staff and refrigerated van - It's sign-written as Brace of Butchers. Our delivery driver has hand sanitiser and will make sure it's used before and after every delivery.
What are the limitations of the delivery?
None. We are looking to help, not restrict.
What is the delivery made in?
All our deliveries are made in paper bags/sacks or cardboard/wooden crates. We try not to use plastic.
Brace of Butchers normally deliver to DT1 postcodes, but I called and asked if they'd deliver to Bradford Peverell and they said that they would.